16. Switch Manageable DGS 1216 T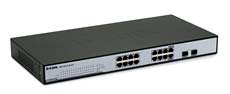 Given as an exercise, this chapter will allow us to study a little more ready the managed switches layer 2, 3 or 4 (type 4 is rather a name commercial of the switches as a similarity with the OSI model).
The configuration is done via a Web interface, the older models also used a RS232-Telnet connection. The Internet window allows the administration, backup or restore settings... All these possibilities allow to finally adjust the performance and security of the network.
As the bridge is directly on the 230 V AC, consider that half the Assembly is under 230 V. The input signal is a rectified voltage (continued), this electronic installation also allows to boot directly from a DC voltage (batteries, voltaic panels,...)
The capabilities of these switch allow including:
manage communications on each port. For example, they may prohibit communications between a port group and another group. This allows to prohibit a part of Ethernet ports (and therefore equipment) to a specific port to prohibit Internet access by prohibiting the communication to the ADSL router.
Prohibit communications between certain IP addresses.
Create groups of users via the IGMP Protocol.
Manage the quality of network cabling by displaying the statistics of collisions on each port.
They are called layer 2 if they allow to determine IP addresses, level 3 if they allow to block ports TCP and / or UDP). The 4 Layer using Layer 4 of the OSI model (even if he does not follow it properly and allow to block some applications by analyzing frames). This is the hardware method to block applications.
Before you can configure and analyze a device of layer 2, a few small comments on three types of equipment:
a hardware firewall and a manageable switch layer 3 to block applications through ports. If the program is trying to pass through a blocked port, there will be no communications.
on the other hand, a hardware firewall will detect frames modifications (content Filtering).
a router will transmit communications between networks of different address classes using NAT or PAT, not a manageable.
16.1 D-Link DGS - 1216 T
The device that we use is a DGS 1216-T from D-Link. It is layer 2 (or lowest) and incorporates 16 Gigabit ports, 2 combo SFP (mini GBIC) for possible extensions, auto MDI/MDIX and different features as trunking to connect Ports of the switches between them. It is of course 19 "rack-mountable. It is an equipment used in small business than in large networks, although it incorporates many possibilities.
The configuration is done via a Web interface. An installer is also provided, in particular to detect his IP address necessary to its configuration.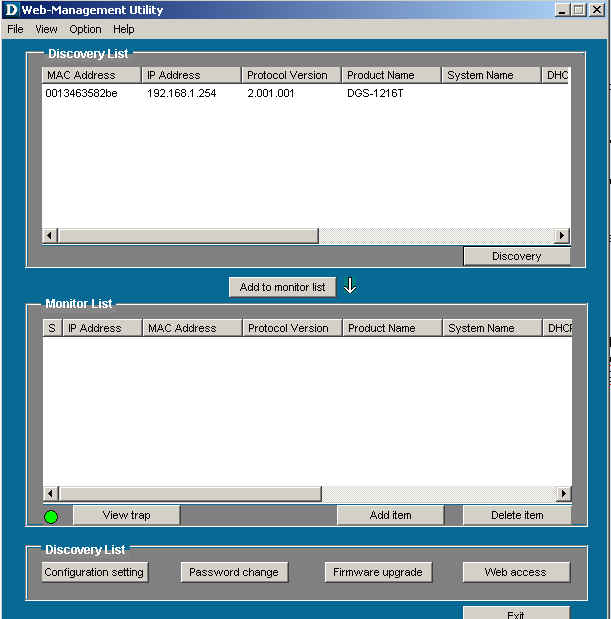 The software installation will first determine its IP address. Once the equipment is detected, the window will allow us via the configuration Setting command to change the IP settings. The chosen IP address must be in the same range than the entire network, or at least fixed the PC connected if you are working in IP addresses.
Once this configuration is completed, you can access the configuration of the manageable switch DGS - 1216T via your favorite browser or by using the Web Access button in the configuration window. Display of departure provides a summary of the configuration of the equipment.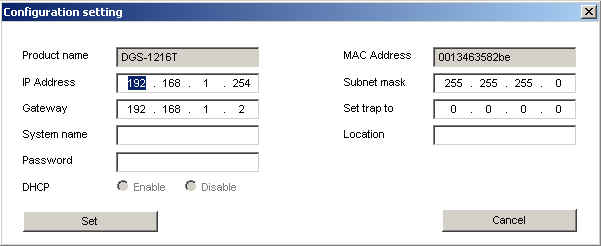 A quick rundown of the menu gives us:
Ports, allows you to configure the speed of different ports, as well as the Flow Control (enabled to reduce data loss) or the port compared to the other priority (QOS)
802 .1Q VLAN that enables to associate groups of machines. Connections in the same group have access among themselves, not others. This allows to totally disassociate two LANs
Port trunking which allows to create a grouping of several switch, including tables of correspondence port / IP connected.
mirror setting to return a copy of all data transmitted to a port to another port, used when using a port scanner software.
The spanning tree protocol (also known as STP) is a network protocol (standard 802.1d) to define an alternative path if the primary connection is cut. The configured connection does function only if there is a failure on the first route, avoiding loops (several possible paths) connections.
SNMP allows simple management of a network
Jumbo Frame allows to accept or not the Ethernet frames with a MTU (Maximum transmit Unit) greater than 1500 bytes (octets), maximum size in 10/100 Ethernet but which may be exceeded in the Gigabit (9000 maximum).
QoS is linked to the ports seen highest priority levels.
Status displays the initial configuration as when connecting.
Statistic to view errors in transmissions by ports.
As the bridge is directly on the 230 V AC, consider that half the Assembly is under 230 V. The input signal is a rectified voltage (continued), this electronic installation also allows to boot directly from a DC voltage (batteries, voltaic panels,...)
In relation: